Grab your flask of tea, unzip your dryrobe, put those webbed feet up, and, if you're interested, allow us to tell you about how we've put a lot of thought into trying to create a planet friendly business. Deeply aware of how much 'stuff' we already have in the world, making anything new in this world was a decision we didn't take lightly and have tried to do it in the most conscientious way.
No greenwashing or using buzz words... we just want to be honest about how we've weighed up the pro's and con's of running a retail business.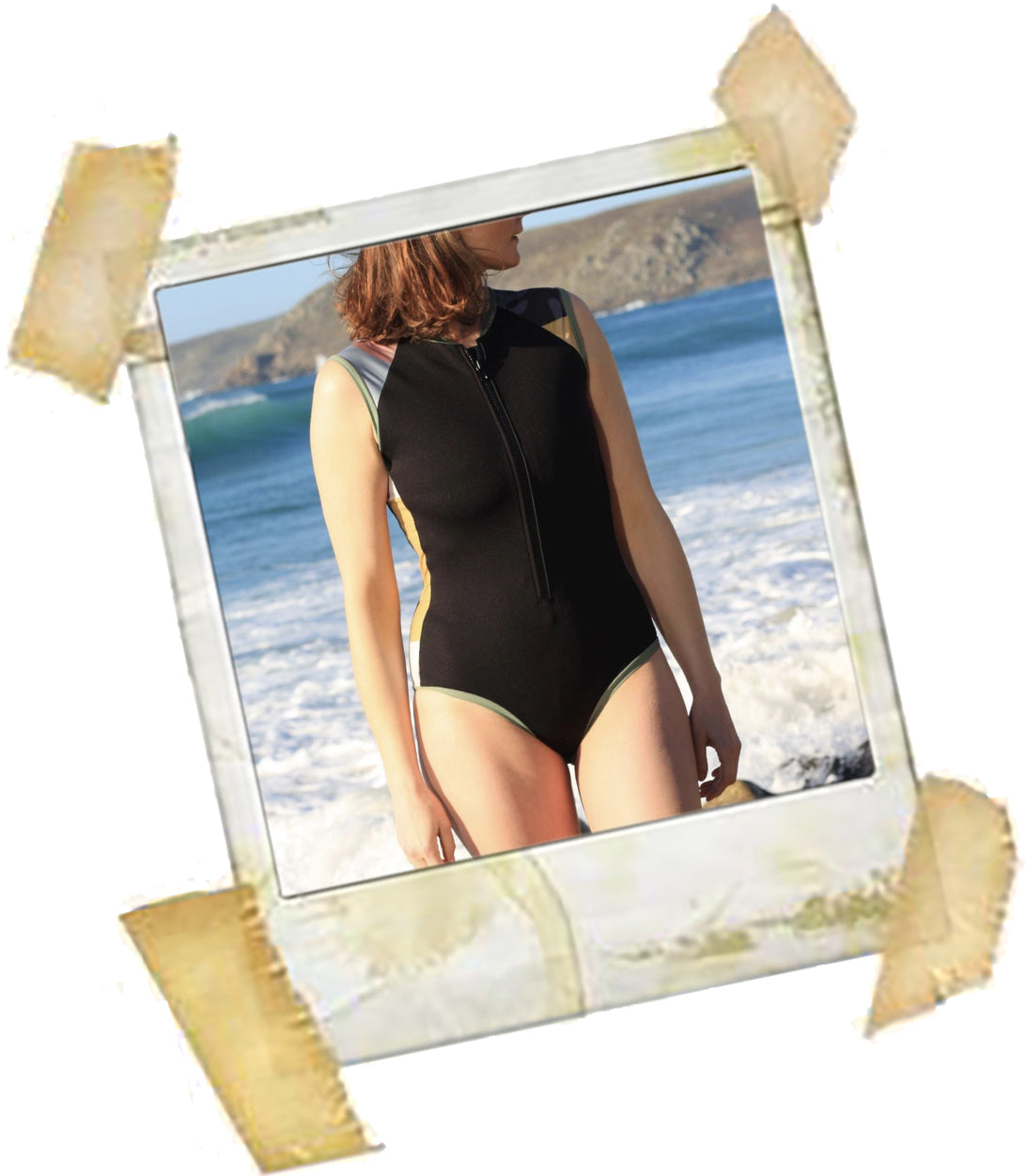 When making our first signature range from scratch, we chose to use recycled fabrics, eco friendly 'neoprene'-like Yulex fabric made from natural rubber not crude oil. We had them cut, assembled and sewn locally in Penzance. As an environmentally friendly and sustainable swimwear business, we thought we'd nailed it. However, there were certain issues that didn't sit well with us; the carbon footprint of shipping small quantities in and the expense of a local seamstress meant the items were not only very expensive but we couldn't hand on heart say they were outweighing the ecological rub of making them PLUS we ended up with stock that didn't sell... so waste. Which made us sad.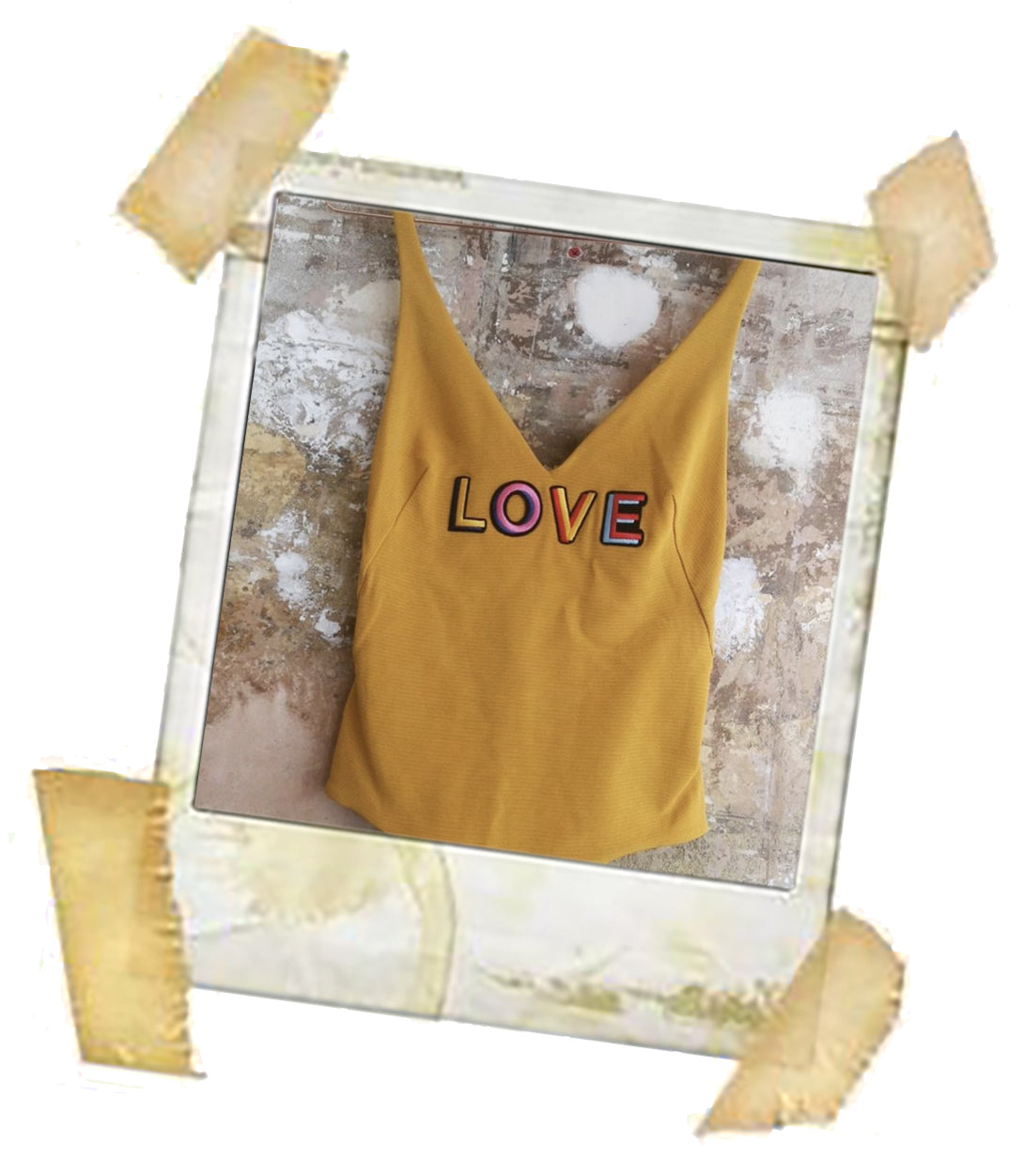 We tried upcycling vintage swimwear; taking preloved swimwear and giving it a modern twist and a new life by embellishing it. The problem with this business model was that it had limitations that weren't viable for us. Firstly, it was difficult to get a range if sizes, and certainly almost impossible to find larger sizes.. most were XS-M. Secondly the fabric was not as modern so didn't have the same coverage, stretch and durability as modern fabrics. Thirdly, there was a lot of woman hours into each piece (finding pieces, designing how to embelish it and getting our seamstress to make the changes) so financially we couldn't recoup the hours spent on each individual piece.
So now we offer a made to order service which in our minds weighing everything up, is the most ecological way we can make swimwear. 
Since we find virgin and recycled polyester have different qualities, we still choose to offer both in our range, and wanted to talk to you a little about this as we are aware that it's a very hot topic for wild swimmers and their swimwear brands.
Just how sustainable is recycled polyester? Like most fabrics, it has upsides and downsides. Which is why we're going to take you through the pros and cons of recycled polyester

Recycled polyester does have some clear advantages over non-recycled polyester:
Recycled polyester offers (almost) the same quality as virgin polyester, using half the energy. As such, it has a lower carbon footprint than virgin polyester.
It (potentially) minimises the amount of plastic waste.

The disadvantages of recycled polyester fabric;
Sadly, infinite recycling isn't a thing and rPET fabric is not widely recycled. The mechanical recycling reduces the fibre-length of the material every time it's processed, which is to say that the quality degrades even if the raw material doesn't. The polyester chips generated by mechanical recycling of PET bottles can sometimes be an off-white or creamy colour, so chlorine-based beaches are often used to whiten the base. There is also an issue with inconsistencies in dye take-up, leading to re-dying and the associated high water, energy and chemical usage.
Recycling PET plastic bottles into textiles may not be as amazing as it sounds. That's because plastic bottles can already be recycled into other plastic bottles without loss of quality. Diverting them from this process potentially prevents them from being recycled indefinitely.

Whether clothes are made of virgin polyester or recycled polyester, they both shed plastic microfibres.
Let's be realistic, though: when comparing virgin polyester vs recycled polyester, we're still talking about the same material. rPET poses the same challenges and environmental problems when it comes to:
recycling
microplastics
the fact that it's not biodegradable
Experts worry that fast fashion brands are greenwashing their use of recycled polyester without addressing the key drivers of their negative impacts: overproduction and waste
Though it may seem virtuous on paper, recycled plastic clothing can never truly be ethical if the people making it are being exploited.
Whether a company is using organic cotton, virgin polyester or recycled plastic bottles for its clothing, it will never be sustainable within a fast fashion system.
Gah! this all sounds awful... what can we do? you ask... well, it's ok...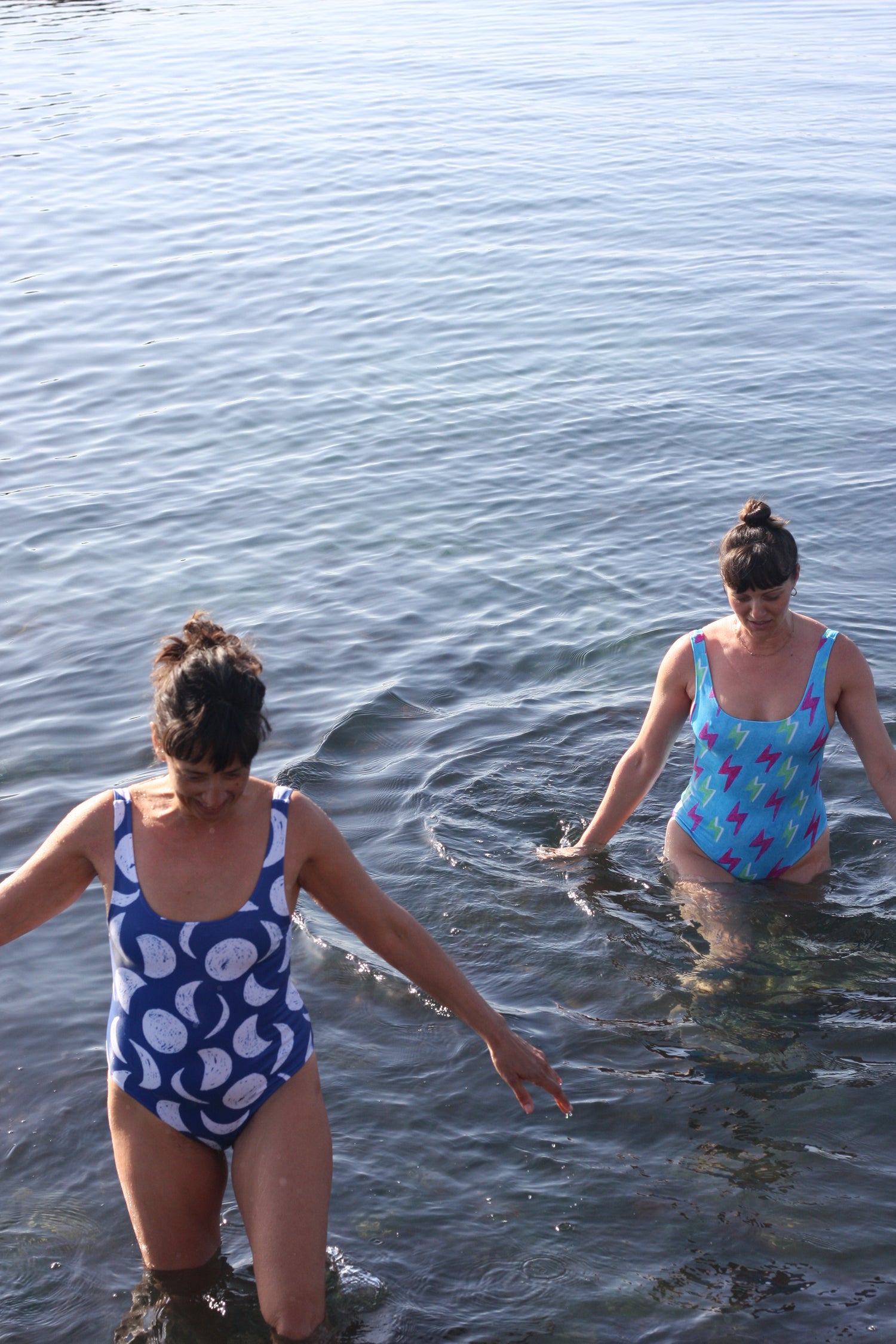 Here's some things you can do;
Make considered purchases, join the slow fashion movement! our swimwear is great quality and so lasts a really long time - you'll get tons of wear out of it (I've had mine for 10yrs now)
Don't bin your polyester clothes! Fix, upcycle, donate, or sell them to prolong their lifespan
Wash your swimwear less often to reduce microplastic shedding. Luckily, there is much less of a problem with items that are never or rarely machine washed, like swimwear made from rPET that you gently handwash.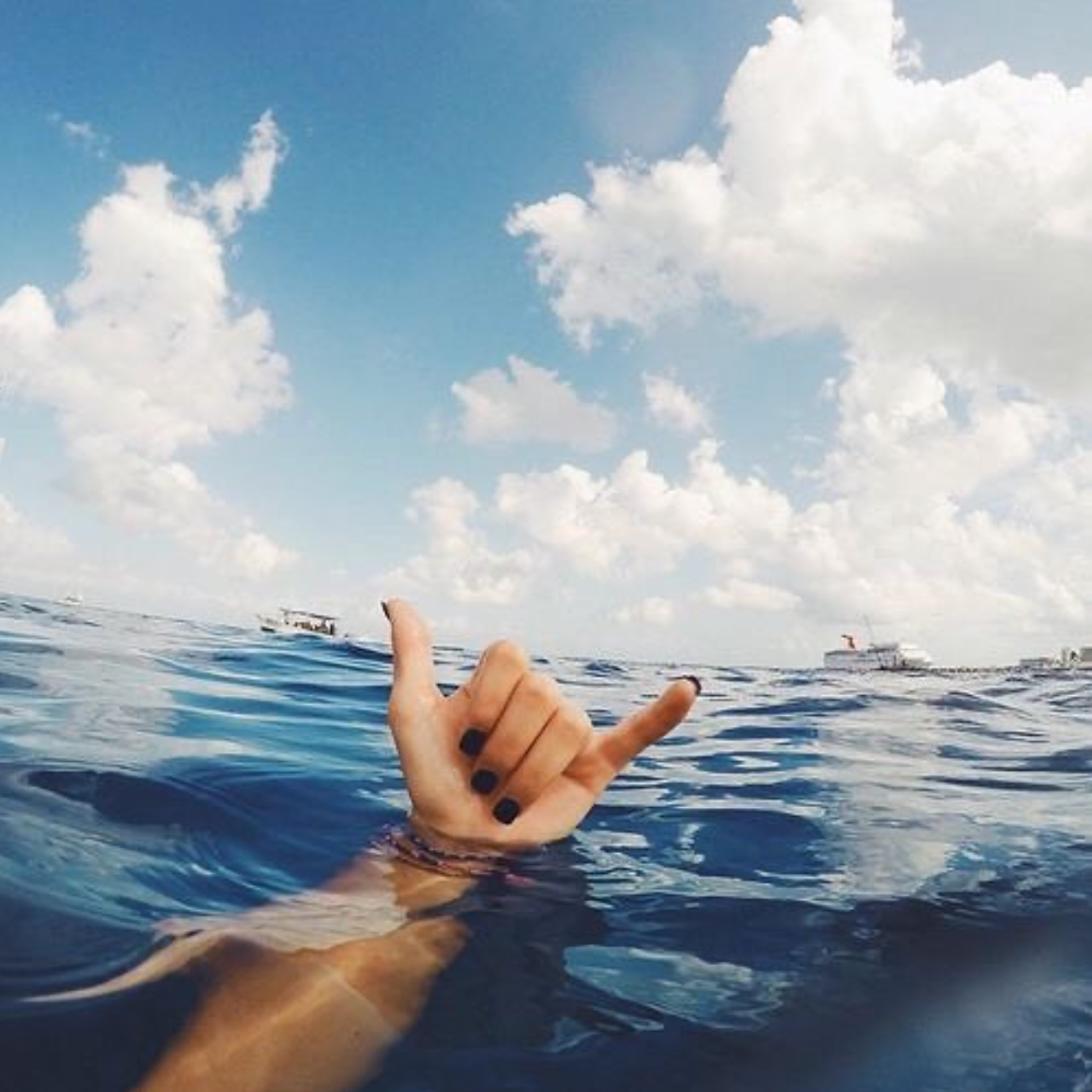 Here's some things we do to try to help;
We have chosen a system of production which is as sustainable as we can make it
There's no waste from unsold stock or overproduction
We have massively reduced carbon footprint by not shipping great distances for raw materials or batch orders. Strategically located fulfillment centers allow for reducing CO₂ emissions produced when transporting orders. Products available in the same region are shipped together whenever possible which is much better for the environment.
We hope that this helps with any questions you may have (see also our FAQ section for other questions regarding plastic packaging etc) and also to know that we give a lot of thought to it and are trying to be good humans spreading good vibes